Jean Pomarèdes the blackguard of Caux

Video of this page
(Please set on the subtitles then use the english automatic translation)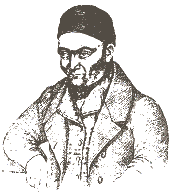 Less than two centuries ago, prevailed the highwayman : Jean Pomarèdes.
He was born in Caux on April 7, 1801 (see act of birth) from a rich family of farmers. Very early, he was a turbulant child, even violent, obeying only to his father.

With the majority, he inherited several family possessions (house, 4 fields, 6 vineyards, olive groves) representing a value of more than 15000 francs, which, for that time, represented a plump sum (a farm laborer won 1 franc a day).
After his marriage - in 1830 in the village of Fontès, with Jeanne Rouyre (see act of marriage) - his business began to decline: he had bought, with his brother in law, a large quantity of alcohol of wine and marc (named the trois-six) in the hope to get an important profit. However, he suffered from the competition of beet's alcohol made in the North of France and sold with a price three times lower. To pay his debts he sold the possessions coming from his wife's dowry, but it wasn't enough to have all loans paid.
Then he decided - with his brother in law, Félix Rouyre - to speculate on real estate. They found, between Puisserguier and Maureilhan, the Lussau's domain to sale, renowned for the quality of his vineyards. They went on the place and bought the domain for 38,500 Francs. The money they had was just enough to cover the notary and recording's expenses. They managed to obtain a loaning for the remainder of the sum. In their mind, they were sure to be able to resell quickly this property but, unfortunately, that didn't happened and they had to face the first term.

From that moment Pomarèdes began his bandit's life.
The first theft he made was against his employee : the herdsman of Fontès who guarded his goats and sheep.

One winter evening, as this one came to Caux to get its monthly salary, Pomarèdes - feigning to be affected by influenza - received the herdsman with many coughing fits. He gave him his wage then let him leave. Our herdsman then went back to Fontès, one mile from Caux.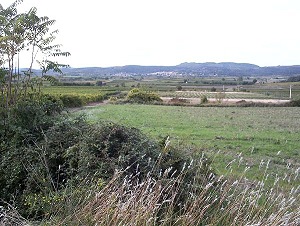 A few moment later, he heard the gallop of a horse getting closer to him. A masked man wearing a cap and armed with pistol appeared in front of him. Threatening him with the handgun he said : "Gimme your money or I kill you !".
The afflicted herdsman hurried to give his money and, as soon as the thief disappeared, he went back to Caux, thinking to have recognized the voice of his boss. Arrived on the place, he says : "Master, someone has just stolen my money and the man who attacked me had your voice ! If you wasn't there, near the fireside, I would believe it was you !".
Pomarèdes answered : "But you can see that I'm ill, I have fever and I can't go out with such a cold weather, but you know, at the current time, roads are not sure and it is a necessity to be careful." That stopped the affair, for lack of proofs, and the few 30 stolen francs were not found.
This few amount, not satisfying the bandit's needs, he decided to try an assurance's swindle with the help of his brother in law Félix : the day before Christmas 1836, in the church of Caux, he participated, with his wife, to the midnight mass when the alarm bell began to ring. Shouts merged : "Fire, Fire, Pomarèdes' house is burning !".
Everyone rushed to the Evéché's street and indeed, fire was ravaging the house. Despite doubts of some, Pomarède had a good alibi. The house was insured by a Béziers' insurance society (Phénix) for a 5,500 Francs amount. However, the insurer drew conclusions it was a criminal fire and paid only 2,400 Francs.
This amount was not enough for our friend and he began to attack the traders who was going back from markets with the product of their sales. First attempts were not too fruitful, but, quickly, he got the good technique :
To commit theft, he was disguised with a false beard, a large and flat cap and had his face painted in black. Sometimes, he wore a mask covering his the nose and the top part of the face.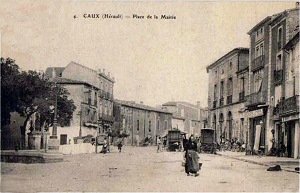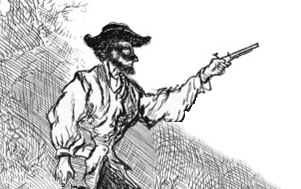 He had a shoulder rawhide bag from where emerged a black bottle. At night, he was putting on the road some standing wooden bundles, with a stick feigning a weapon, letting think the attack was done by an armed gang (the weak lighting of the vehicles at this time - lantern with candle - allowed easily subterfuge).
Although he always denied, it would seem that his brother in law accompanied him sometimes in these expeditions.
The attack's technique was simple : he emerged in front of his victims, weapon in the hand, saying : "Baïlo me toun argent" (gimme your money) and got the purse of the afflicted merchants coming back from markets. He used, depending from the place he acted, a different patois to hide his caussinarde(from the village of Caux)'s origin .
First aggression would date on December 15, 1837, on Béziers road to Capestang where, with Félix, they attacked two cattle's traders coming there for the Béziers's fair.
However, these two people - as the bandits weapon had stamped down - came to blow and succeeded to escape, keeping their purse. Attacks continued until 1842 around Béziers, Autignac, Bédarieux, Clermont-l'Hérault, Florensac, Paulhan and Pézenas (that explains the Pomarèdes's so-called holes which can be found here and there).
Numerous persons were robbed (not quite, doubtless , by Pomarèdes, because during Louis Philippe's period, bandits' bands were common and the fame of a bandit with false beard and cap had made imitators).
During this period, three attacks ended with victims' death : the first on July 24, 1840, on Bouzigues's road, second on December 11, 1840, on Bélarga's road and finally on December 16th, 1841 on St Géniès' road. The victim of this last murder was a man named Carratier going back to Autignac, riding his horse. He was coming from Béziers for business and had just withdrew 3.000 Francs from the bank. In the afternoon, he had met Pomarèdes, a long date acquaintance, and they had lunch together in a restaurant on the Allées Paul Riquet. During the aggression, at about 9 PM, he believed to recognize his friend's voice and this shot him. It is Charles Carratier's horse which alerted the helps, but before dying, the man had the time to designate his murderer.
Nevertheless, without proof, Pomarèdes was not disturbed. In the region, people began to gossip : During an attack, Pomarèdes had forgotten his new pistol, recently bought in Béziers, on the scene of the theft. Furthermore, payments "cash" for the credit of the Lussau's domain left questions in suspend. The last aggression was the Pierre Boularand "Cambacho" (ham)'s one which had just sold, the day before, about twenty pigs on Béziers's market. This Saturday , February 19, 1842, he was quietly coming back , on foot , in the direction of Hérépian. At about 10 o'clock, close to the "Das Arenas"'s bridge, a capped man appeared from undergrowth and stole him, under the threat, the belt where was the money of the sale - 1.850 Francs - and ran away toward the southwest.
Cambacho shouted "au voleur !" and was quickly joined by a man coming from Bédarieux. They alerted at once the policemen. During this time, Pomarèdes ran away in the direction of Laurens where he was perceived by several persons. Carefully, he hid his booty in a field of rye, without suspecting that he was observed. The policemen, helped by numerous inhabitants of Laurens, had organized a battue. Meanwhile, two people watched the place where was hidden the booty and as soon as the bandit returned, he was encircled, captured and took away to the Farniès' station where he was put in prison.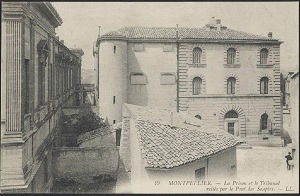 Two policemen on horseback escorted him to the Béziers's prison and, from there, he was transferred to the prison of Montpelier where had to take place lawsuit. The first audience took place on November 25, 1842.
A wide crowd was amassed in front of the law court, since the dawn, to wait debates. People shouted "He must be guillotined !", "Kill him, kill him". At about 10 AM, the tribunal's doors opened and people rushed inside. As soon as the room was full, doors were closed and the appeal of the very numerous witnesses (256!) began.
Pomarède, since nicknamed "la canalho de Caous" - the Canaille of Caux - appeared dressed with a brown woollen cloth jacket, a blue trousers, a woollen waistcoat with squared red and blue motives and capped with a black velour skullcap. His complexion was pale and he looked gloomy. He was followed by his brother in law seeming less gloomy, but the gaze low and leaving escape some tears. The court's clerk made the reading of the indictment's deed :
- An arson,
- Fifty eight attacks,
- Thirty five attempts of theft
- Five assassinations' attempts whose three murders.
Lawsuit lasted thirteen days in an overexcited atmosphere. At the end, Pomarède admitted some thefts but denied the three murders : "I was a thief, not a murderer" he said.
It was adjudged of complicity in the fire of his house, thirty five armed robberies, two assassinations' attempts and one murder. When the President read verdict "Pomarèdes, condemned to death", this last one raised the head, the face pallid. But he remained persuaded that - as he hadn't admitted any murder - he wouldn't be condemned to the capital punishment. His accomplice, Félix, got the jury's indulgence and was acquitted. In the announcement of the verdict, crowd shouted of joy and it was necessary to double police contingent to take back Pomarèdes to jail. In prison, he benefited from a special treatment because, on the Prefect of Hérault's order, 2 francs a day for meals were attributed to his meals(and that was a lot for this time) :
Morning
Fatty soup,
Porridge,
Dessert,
Wine,
Bread

Evening
Pork Chop,
Marmalade,
Wine,
Bread

In fact, it was wanted to have it remains healthy until the day of his execution... That did not prevent him to try by twice to commit suicide. He tried, on the advice of his lawyer, Mister Cazals, to ask for pardon, by mail , to the Court of Cassation's President, but the refusal of this appeal reached him on February 12, 1843. Thenceforth, the guillotine was ordered and transported on tumbrel to Pézenas.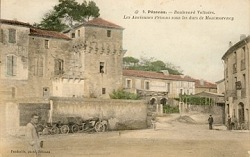 The execution's day was fixed on Saturday , February 18, 1843, in the village of Pézenas. As soon as the news were knew, all the roads leading to the village were swarmed by pedestrians, barouches, horses and asses. The crowd was so dense that it was impossible to make any move.

Pomarèdes was woken at 4 o'clock in the morning. After have been confessed, he dressed the lined suit and the black bonnet of prisoners. He was put on a tumbrel, accompanied with the chaplain - the abbot Cellier, holding a crucifix in the hand - a sergeant and a policeman.
The retinue started under the Montpellier people's boos : "A mort bandit, tu ne l'as pas volé !" (you gonna be killed bandit, that's the price you have to pay !). That happened all along the road to Pézénas, so that came twenty five more soldiers to strengthen the escort. Arrived on the scene, Pézénas was full of people.
More than 50.000 persons massed around the Saint-Jean place (the current 14 Juillet place). The fodderings had no vacancies, so that a lot of people had to attach their horse or their ass to a tree, to come in the village.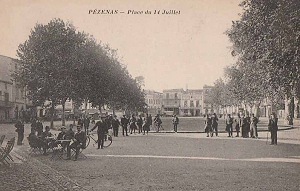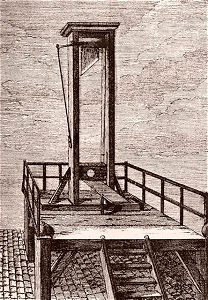 The guillotine was installed on the place, the scaffold's stairs facing the Trois-Six Hotel (in front of the current post office). Around it, a 15 meters perimeter was guarded by soldiers, bayonet fixed to fusil, and a 5 meters passage had been left, leading to the prison where Pomarèdes rested until the last preparations were done.
At about 10:30, the policemen took him and made him climbing the scaffold's steps. The executioner, who came from Perpignan, pulled out the convict's waistcoat and cut the collar of his shirt. Pomarèdes, moved, asked for a cup of coffee. He drank the cup and as there was a little sugar in the bottom, he collected it carefully with his teaspoon and swallowed it.

Then, he asked his wife to forgive him for all agonies he caused her and went to scaffold with great courage.

He kissed the chaplain which had just removed him his hat, pulled out his jacket by a shoulder move and lain on the board which fell over immediately.
The shouts of the crowd stopped and a big silence took place. At 11:15, the head fell under the chopper (see act of death).
The body was buried by the pilgrim friars of Pézénas, in a pit opened under the threshold of the cemetery's door. Below him already rested a guillotined, named Hilaire, executed in 1815 and, afterward, a demoiselle Rigal named "the Sainte" was buried there. Newspapers of this time made their headlines with the story, and all about Pomarèdes : sketches, songs and stories, was very well sold.